Ok so just started weaving at home and here is a picture of what it looks like on the loom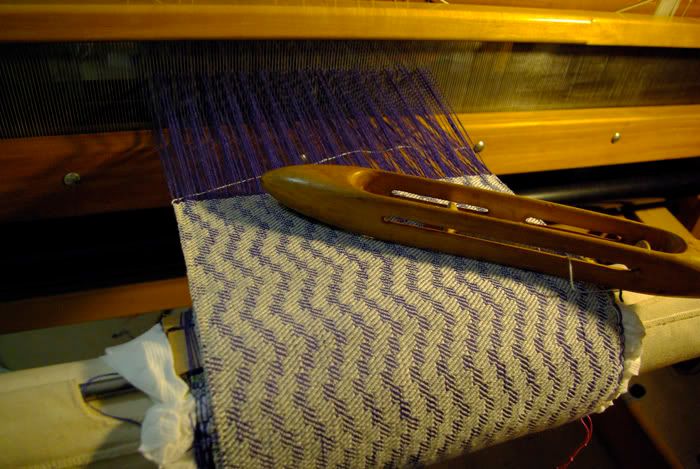 This is a 16 harness pattern that moves between weft faced and warp faced.
The top side is primarily silver and the underside is inverted and mostly blue. The interesting thing about this weaving is that when you take it off the pressure the zig zags pucker a bit giving it a subtle three dimensional texture. Hopefully is will have an excellent future as a scarf. Anyhow if you would like to get tecnical and you happen to have a 16 harness loom in your life, here is the draft for this structure from handweaving.net
I am trying to crank this scarf out quickly, in part to see how fast I can work and in part to not monopolize the equipment. My mom and I are using the same loom so I can't exactly leave unfinished projects hanging around. And I am pretty excited about starting the next warp. We are going to do some crazy shit for round 2. At least I know I am lol. I am in love with networked drafting and how a complex tie up can give you an amazing amount of control. My mom on the other hand is in love with dye. This may turn out very well all things considered.
Ok back to weaving!