So a while back I made the book "My Mother's Garden" and I had been playing with the idea recreating pages from the book as wall prints, using the same flowers. So I have finally started working on this idea while working on my big tall print at the same time.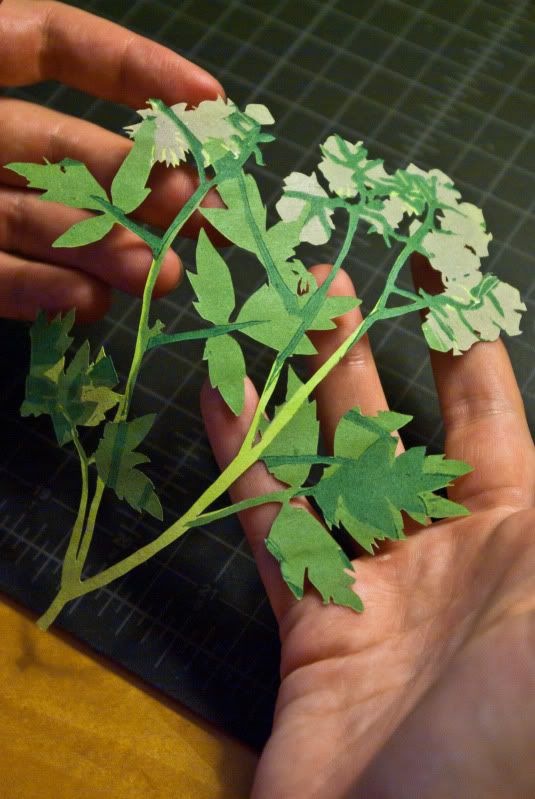 I wanted to keep these as true to the book as possible so I got the same paper (Arches natural) I don't have a typewriter any more so I managed to print labels off my computer in a old looking typewriter font. This worked unexpectedly well.
The other thing I have been working on is fixing the biggest issue I had with the book version. The problem with the book was that once I glued the flowers down, it looked like I had printed them in the book and you couldn't tell that the flower was a separate thing they just fused together which was disappointing as they had been laboriously cut-out as you can see from the picture. So I have been gluing little hole punched paper circles to the backs of the flowers to make the flowers pop forward. It is just enough to create a small amount of distance between the flowers and the back paper, and give me this very discrete but oh so satisfying drop shadow.
I am posting about the flowers now but I have been working on them for a while. It takes a while to cut each one out, and I had 10 different flowers each with an edition of 5. But I am all cut out now and I just have to glue them down and take some photographs. Part of me wants to sell them framed because I think they need to be framed as small as possible to keep them sweet and intimate. Maybe I'll get one frame and photograph them framed to give people the right idea…